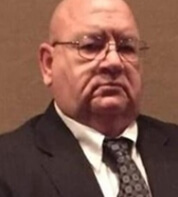 Stan Corbitt began working at the Temple Police Department in 1984 and honorably retired in 2010 after 25 years of service. He started a motorcycle escort service, was a certified arson investigator, an accident reconstruction officer and was a certified firearms instructor.
Stan was a founding member of the Fraternal Order of Police Central Texas Lodge #29 in 1988.
Stan served in the Texas State Lodge Fraternal Order of Police as chairman of the Legislative Committee, Treasurer, and as Secretary. He was chosen by the National Fraternal Order of Police to serve on their Constitution & Bi-Laws Committee.
Outside of the Fraternal Order of Police and law enforcement, Stan worked a number of years with the Teens Off the Street as their security officer at The Other Side Teen Club.
Stan died April 3, 2016. The Texas State Lodge established the Stan Corbitt Scholarship in honor of his service to FOP.